Five more days, five, count them! That's five days left to take advantage of over 120 incredibly discounted dining opportunities available across Portland during Portland Dining Month 2017.
Portland Dining Month, now in its eighth year, is winding down to the last five days to get your eat on as we approach the end of March. If you still don't know what PDM is, allow me to break it down some more; basically, March is the best month for food lovers and curious dinners throughout the city to enjoy a three-course meal for $29. For the past eight years March has been the month to head out to a new -participating- portland area restaurant or swing by a trusty standby to enjoy a three-course prix fixe dinner offered for only $29 -an incredibly discounted deal.
Head to portlanddiningmonth.com to find a full list of participating restaurants and read the menu options available as the guesswork has been taken away from wondering who might have the type of meal you seek- since the PDM menu offerings are posted to salivate over! And, if just heading out to eat at a discount isn't enough to move you, here's two extra things to make PDM extra awesome:
These are not just some hole in the wall greasy dinners or chain restaurants that offer weekly coupons in the Sunday prints. Some participating restaurants are beyond local news reviews and have national recognition, with some restaurants even having highly sought after James Beard Award nominations, finalists, and winners.

If going to dinner at your favorite restaurant isn't enough of a reason to participate in Portland Dining Month how about knowing that portland dining month has partnered up with the oregon food bank. for every reservation made online through portlanddiningmonth.com links a donation is made to the hunger-relief organization. the oregon food bank collects and distributes food among oregon and our neighbors in clark county, washington. not only does the ofb fight hunger but also works to uncover the root causes of hunger by offering nutrition education, strengthening local food systems and advocating for hunger relief at the local and federal level, visit www.oregonfoodbank.org to learn more!

For the past three years I've been an active diner during Portland Dining Month, usually hitting a restaurant a week. Although PDM is the time to try new restaurants there are two that always land as top choices among my list of places; Aviary and Little Bird Bistro. My yearly strategy for sorting through all of the restaurant menu's is to look at restaurants that have been sitting in my 'places-to-try' queue and then comb through some of my standby favorite PDM participating restaurants. After writing up a little list of places that I am inspired to try for the month I then go through and re-read the menu's carefully. I like places that offer a choice for all courses, and, of course, those who offer the best looking desserts! Places that offer a choice with each course is huge, especially when dining with a friend or friends. More people means more plate options and the possibility of even sharing -the whole reason of having friends, right! And, as far as the dessert portion goes this is the most important decision to make with all of the PDM menu's, which place has the best sounding dessert. Any place can whip up a quick pot de creme or dish up a scoop of ice cream with a hot fudge drizzle, so when a restaurant goes the extra mile to make a special dessert land on their PDM menu I go bananas over it. Think about this, when was the last time you actually had room for dessert when dining out? I hardly, if ever, do. So when I go out for PDm I can justify ordering dessert as it's right there, part of my courses, and how am I going to dismiss my third course? Nope, won't do it!
After I square away those dining logistics I then set up reservations using the portlanddiningmonth.com website and start inviting friends to join me, let's just say I have yet to take issue with finding dining companions.
Below are my three dining month adventures:
This isn't my first time dining at Aviary, I've dined here twice for PDM and again for dinner outside of dining month. In terms of 'bang for your buck', dining month is the best time to test Aviary's offerings as the plates run a bit steep and might not be as fulfilling as a barbeque meal, but the combination of flavors and textures are meant to dazzle your tastebuds.
Drinks are not included in the PDM menu but make a great addition to the experience.
The dining area is light filled and allows for fresh air when the weather is warm and the big windows are open.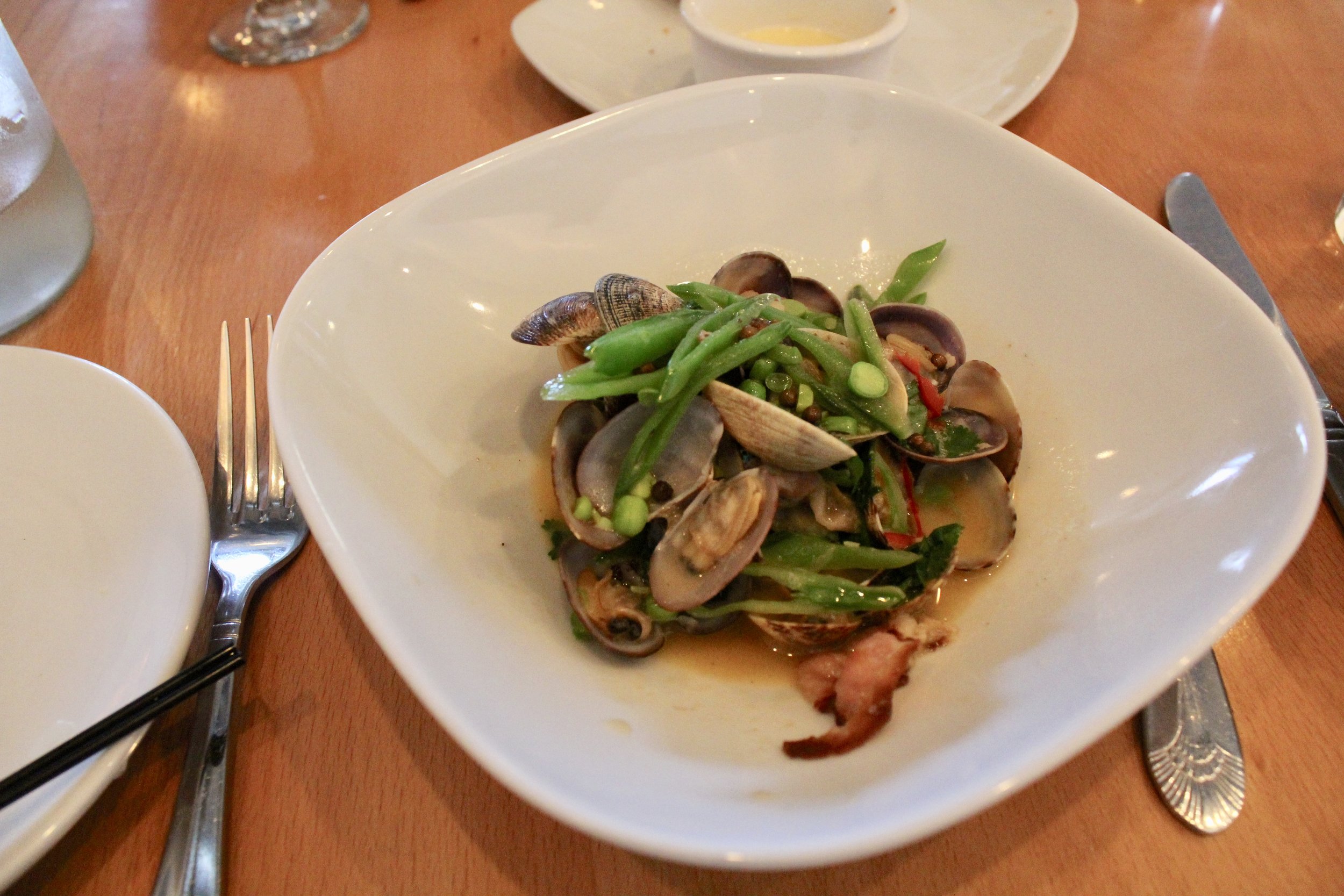 First course:
Steamed Manila Clams with sherry, guanciale, sugar snap peas and coriander
*my dining companion and i both ordered the first course*
Second course options (above):
Lamb Two Ways with roasted leg and hoisin-glazed belly, taro tots, scallion and water chestnut gremolata
Pan Seared Tasmanian Sea Trout Yuzu with fennel, tamarind and savoy cabbage *my favorite dish from our entire meal*
Third course choices:
Chocolate Hazelnut Cake with espresso ice cream and passion fruit
Coconut Tapioca with mango sorbed and caramel cremeux *a close second*
Departure offered two choices for each of the three courses and each dish was delicious in it's own savory asian influenced and prepared way.
above photos:
First course: Chicken Tom Kha Soup with coconut milk, mushroom, galangal, and makrut lime
Second course: Beef Noodles with shiitake, chili, and yu choi
Third course: Coconut Ash Chocolate Cake with marionberry and coconut caramel ice cream
First course: Roasted Cauliflower and Snow Peas with charred lemongrass, chilies, and puffed wild rice
Second course: Shrimp and Long Bean Prik Khing Curry with white rice
Third course: Frozen Passion Fruit Mouse with kumquat, calamansi, and almond crumble *my favorite dish of the six i tried!*
La Moule did not offer choices for the courses so the following dishes are what was offered on their dining month menu:
First course: Crispy Bay Shrimp Wedge with snap peas, radish, bacon, with a dill 'ranchovy' dressing. *my favorite of the three courses*
Second course: Manhattan Moules with Penn Cove Mussels, tomato, garlic, new potato, celery seed and oyster crackers
Third course: Chocolate Pot de Creme with hazelnut brittle, frangelicio chantilly cream and candied orange zest.
Although I have visited three participating restaurants I still have one more to go, my last stop, The Hairy Lobster! I'm looking forward to some fried chicken and sticky toffee pudding!
disclosure: I was invited to participate in Portland Dining Month on behalf of my friends at Travel Portland. I received a complimentary meal at Aviary, a place of my choosing, for myself and a guest. I've eaten at Aviary numerous times on my own dime and will continue to look forward to their portland dining month menu every year!