Sharky's Woodfired Mexican Grill
7715 SW Nyberg St. Suite D.
Tualatin, OR 97062
SHARKY'S WOODFIRED MEXICAN GRILLA
A few weeks ago i was invited to Sharky's Woodfired Mexican grill down in Tualatin, OR. and holy moly was I impressed with my entire experience.
Sharky's is very committed to sourcing the best natural, local, and organic ingredients, it shows in the freshness of the food, which is a huge contrast from the typical mexican restaurants you may be used to.
Founded in 1992, Sharky's offers a clean approach to Mexican cuisine using organic greens, preservative and hormone free meats, and non-GMO project verified whenever possible. Aside from all of the feel good offerings, Sharky's menu also accommodates a variety of dining choices for those who eat vegetarian, vegan, gluten-free, and protein packed diets. The Tualatin location is the first Sharky's outside of the founding state of California.
Aside from the expansive menu they also have something to suit everyones drinking needs with draft beer, sangria, wine, and daily-made flavored lemonades.
ITEMS ORDERED:
guacamole and since i couldn't decide on lemonade flavors i tried a nice little flight.
chicken fajita bowl:
a colorful bowl with a base of organic rice and beans, layered with freshly grilled veggies, onions, and chicken and topped with pico de gallo, guacamole and sour cream. the fajita bowl is served with a choice of flour or corn tortillas.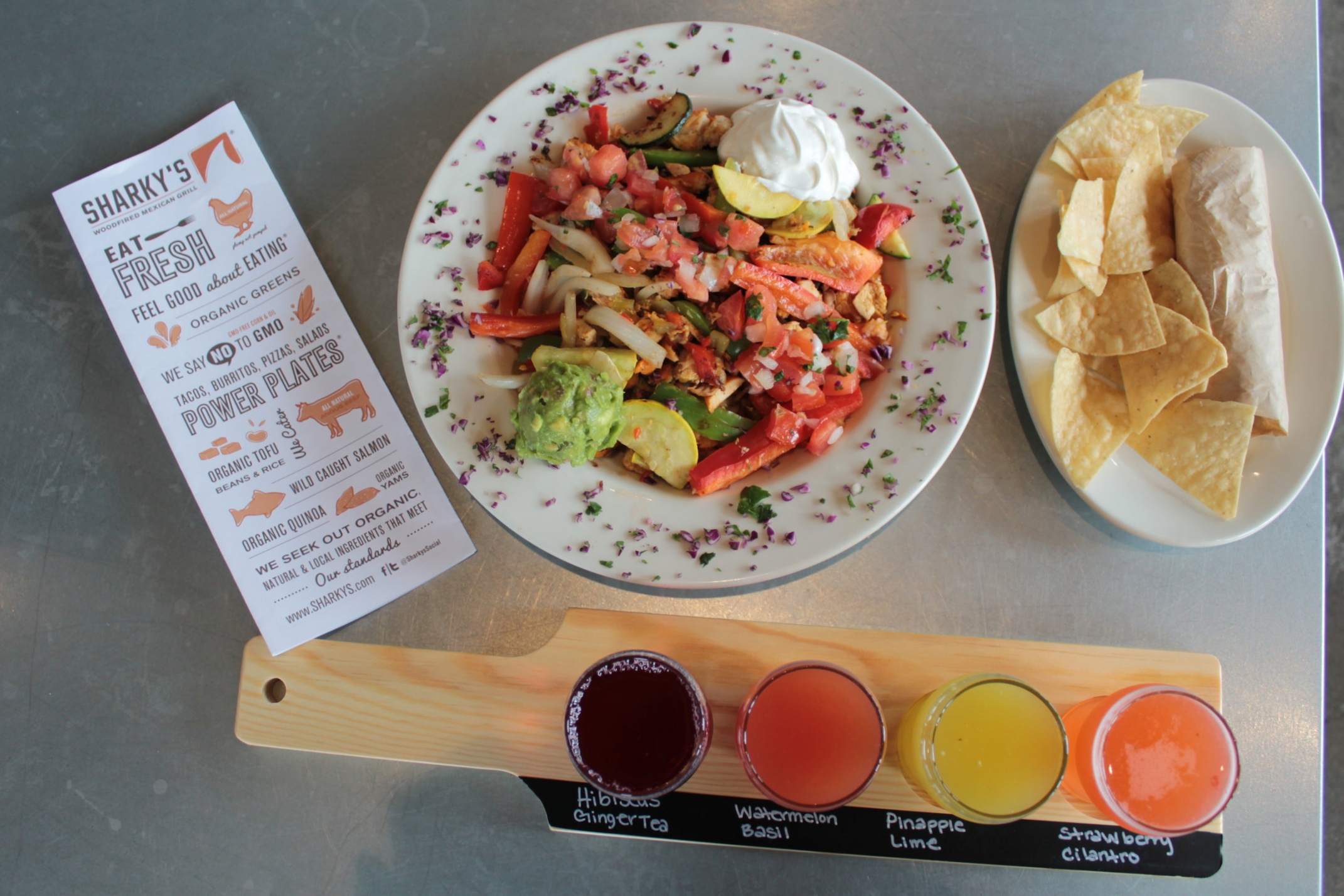 wild caught fish tacos:
a hearty plate of two corn or flour tortillas filled with wild caught fish, topped with a cabbage slaw, cheese, pico de gallo, and sauce. tacos are served with a choice of organic rice and beans or a side salad. from the looks of my plate you can see i chose the salad and was super glad i did. the side salad is worthy of ordering as a stand along plate with organic greens, tomato, cucumber, pepitas, chile croutons, and cotija cheese,
although i live in a city full of fresh and local options, i can easily say Sharky's is worth the little drive out of town for a hearty meal, local craft beers, a variety of non-alcoholic drinks, and some wonderful customer service. the people behind the restaurant were super helpful in explaining all of the food options available and did not rush me through the line, unlike my always experience at an unnamed national restaurant chain. and when my food came out to my table the staff were quick to note i had missed their wonderful salsa bar, so happy they pointed that out, i had to try a little of everything.
the flavored lemonades, infused teas, and salsa bar choices available during my visit.
the tualatin location also has a nice sun soaked area to catch some sunday football!
disclosure: i was invited to attend a blogger's dinner at the newly opened Sharky's Woodfired Mexican Grill where i received a complimentary meal of my choosing. all opinions shared are my own, and not in exchange for a positive review.