As soon as I had seen this English Provender Lemon Curd in this month's degustabox I knew exactly how I would be putting it to use; on a freshly made dutch baby!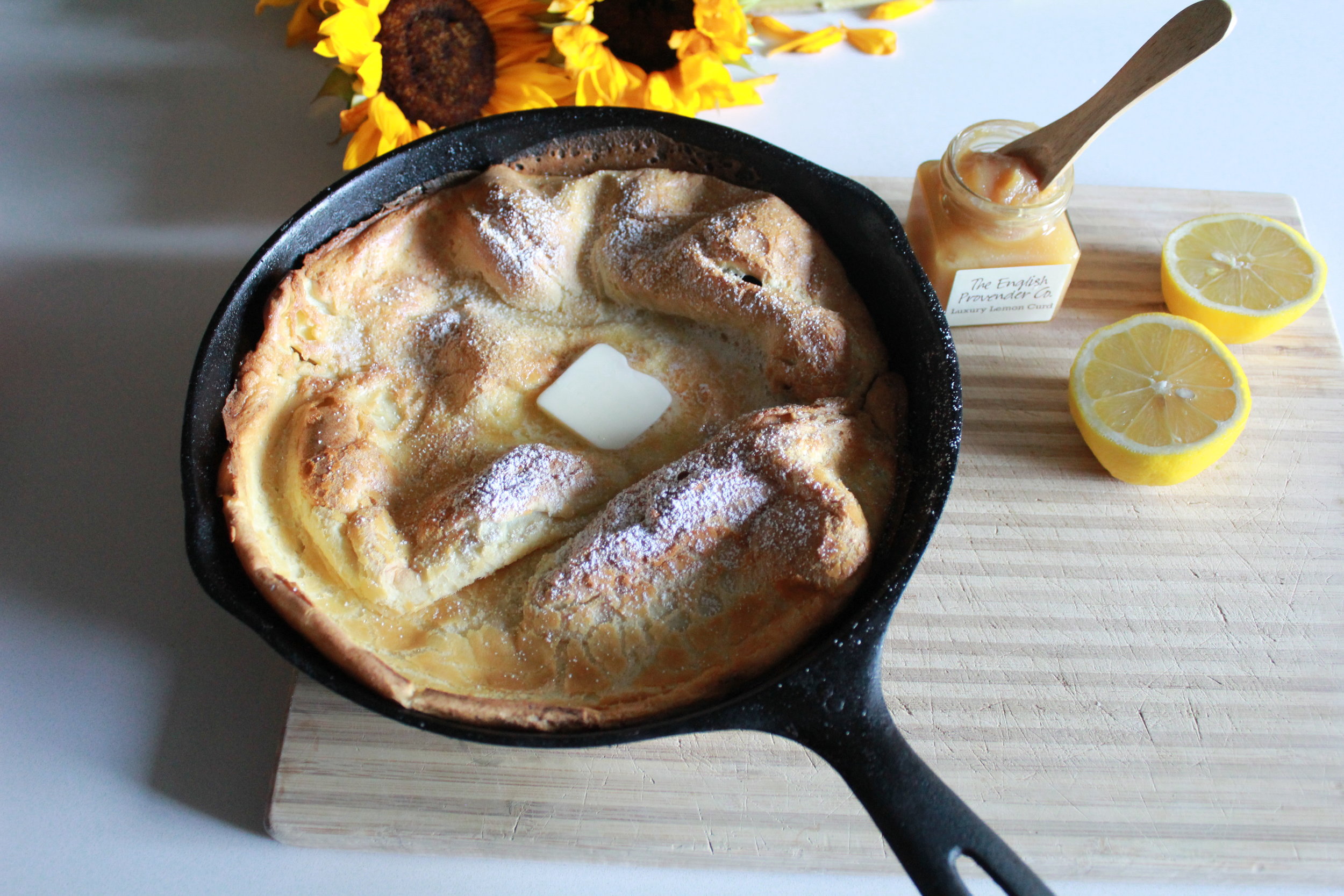 A dutch baby has got to be one of easiest breakfast items to whip up. It looks complicated and seem so fancy but in total seriousness I'd rather make a few rounds of dutch baby than to stand over a hot griddle dishing out waffles or hotcakes. The ingredients for a dutch baby are simple, the ingredient are already ones commonly stocked in your pantry; flour, sugar, salt, eggs, milk, and vanilla, so put on your apron and let's get to work. The only real fuss to a dutch baby is having ingredients at room temperature and deciding what toppings to put on it.
Don't these ingredients look common enough: flour, eggs, salt, milk, and vanilla?
DUTCH BABY WITH ENGLISH PROVENDER LEMON CURD
Preheat oven to 425 degrees F
Blend milk, flour, eggs, vanilla extract, and salt together in a blender until batter is smooth.
Melt clarified butter in a 10-inch cast-iron skillet over high heat until bubbling; pour batter into the center of the skillet.
Bake in the preheated oven until puffed and golden, 20 to 25 minutes, brush with 1 tbsp butter, drizzle lemon juice over top, dust with confectioners' sugar and serve with English Provender Lemon Curd on the side.
this is a Chef John original recipe which can be found HERE!
2/3 C, milk, room temperature
1/2 C packed all-purpose flour
3 large eggs, room temperature
1/4 tsp. vanilla extract
1/4 tsp salt
3 tbsp. clarified butter
1 tbsp. butter
1/2 mayer lemon, juiced
1 tbsp. confectioners' sugar
3 tbsp. English Provender Lemon Curd.