new month and new DEGUSTABOX, here's a breakdown of what i found in my september box: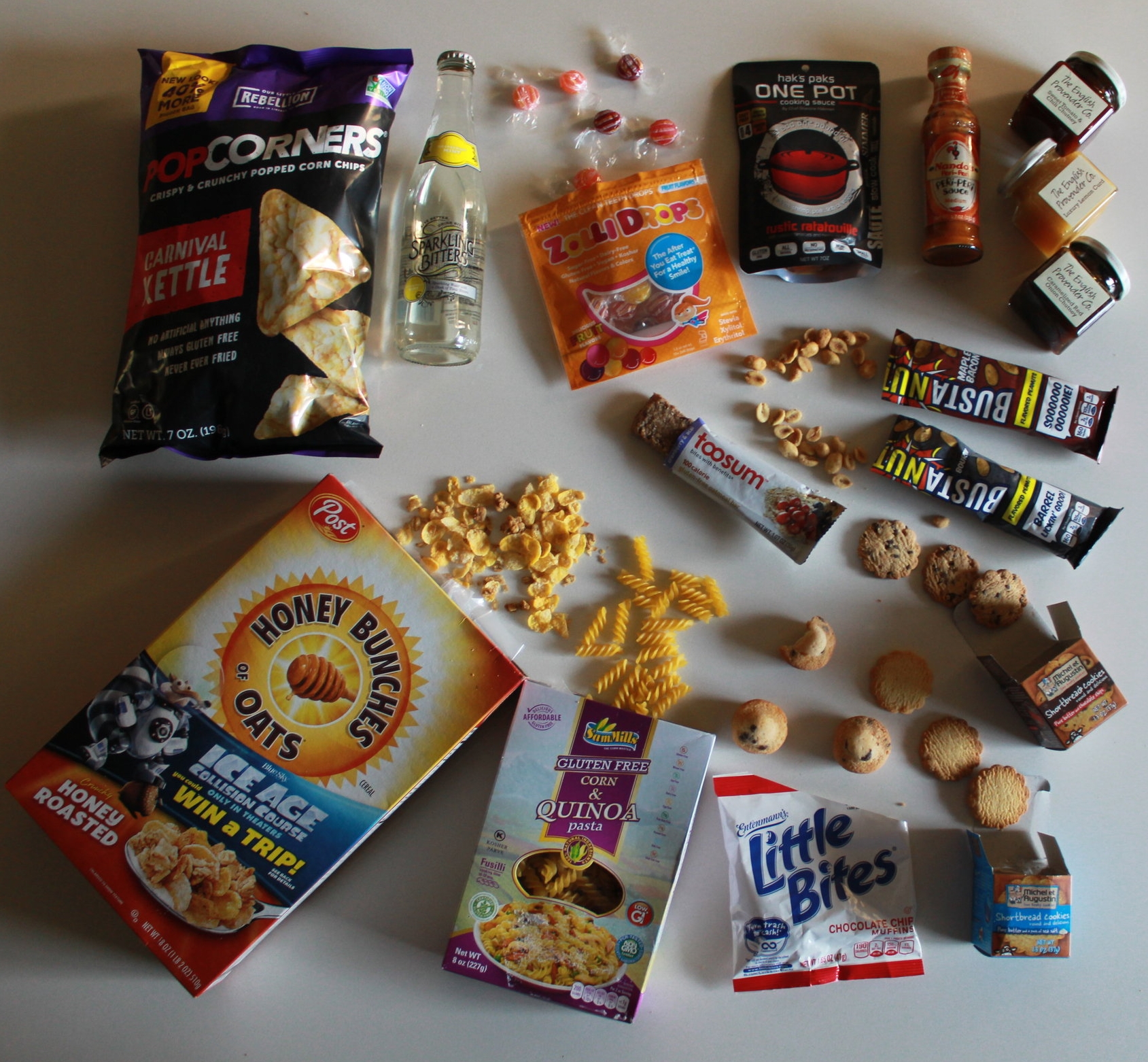 above is everything that was included in my september monthly subscription to DEGUSTABOX.
16 items: popCORNers/ Sparkling Bitters/ Toosum oatmeal bar/ BustaNUT!/ Sam Mills pasta/ Entenmann's little bites/ Nando's PERi PERi sauce/ English Provender /Michel et Augustin shortbread cookies/ Hak's one pot cooking sauce/ Zollipops
Sam Mills gluten free corn & quinoa pasta. so i've not tried this pasta before but will have to as it's gluten-free pasta, free of wheat, soy, egg, dairy, tree nuts, fish, and shell fish. made with non-GMO ingredients and is kosher. sounds like the pasta to get for every dietary restriction.

Entenmann's Little Bites in chocolate chip muffins. now i've had many of these little muffin bites in the past and truly am surprised to learn they contain 0g trans-fat, no high fructose syrup and are made with real chocolate. surprise surprise!

Michel et Augustin little shortbread cookies, these are completely new to me and anything shortbread is something i tend to be a fan of, so after trying both flavors found in my monthly box i was pretty happy to finish the entire box of the butter and sea salt ones. hope these will stock the shelves soon as they are commonly found in france.
Toosum. a gluten-free oatmeal bar with just 100 calories, low in sugar and has zero refined sugars, and certified gluten-free, non-GMO, and without a trace of artificial anything!
BustaNut! wow, quite the name for a bag of nuts. in this months box i received two flavors, burbon and maple bacon. i favored the bourbon flavor with its gentle touch of smoke, not a huge fan of the maple bacon but the husband sure was.
Zolli Drops. these are new to me, they are sugar-free, gluten-free, vegan and kosher, made with natural flavors and colors in the USA. a natural way to prevent tooth decay.
Nando's PERi PERi sauce. okay i've heard of Nando's and have heard the raves about their chicken and this PERi PERi sauce. excited to have a bottle and am looking forward to marinating some chicken breast overnight in this sauce! looks like this sauce is a combination of african bird's eye chili, lemon, garlic, onion and spices. this sauce also happens to be kosher, halal, gluten-free and fairly natural!
Hak's one pot cooking sauce in rustic ratatouille. i've never heard of this sauce and have yet to test it out, but from the description it's best used for a crock pot recipe all you have to do is add one pound of your preferred meat or veggies. the rustic ratatouille is gluten-free, all natural, no preservatives, non-GMO, and produced in small batches.
popCORNers in carnival kettle flavor. these are new to me and appear to be popped corn chips. they tasted very close to kettle corn, a slightly sweet and somewhat salty treat. these chips are gluten-free, non-GMO, vegan, and crunchy.
Sparkling Bitters in mint. this is also new to me and i just happen to be a big fan of sparkly water, unfortunately my bottle was leaking when it arrived, with fear of glass being found in the bottle, i tossed it out.
The English Provender in Sweet Tomato & Chili Chutney, Luxury Lemon Curd, and Carmalized Red Onion Chutney. these are a small batch curds and jams using traditional english recipes since 1979 and are all non-GMO, vegaterian, and gluten free.
check back soon to see what recipe i came up with using an item from this months DEGUSTABOX!
still unsure about a monthly food surprise subscription? check out my previous
DEGUSTABOX UNBOXING BELOW:
Degustabox subscribers have no long term commitment, can do a box each month or just try one for fun, plus shipping is free! Follow the link below and receive %50 off your first box!
thank you DEGUSTABOX for sending a september box my way in exchange for my honest review and opinion