my october DEGUSTABOX arrived and came packing with some fun finds this month:
above is everything included in my october box, a breakdown of it all below.
october's degustabox came loaded up with the following 11 items: Jones soda/ Numi Tea / Palo Popcorn / Hometown Bagel / Lovely Candy / La Tortilla Factory / Wasa Thins / Energems / Crown Nut / Barilla Marinara Sauce / Barilla ProteinPLUS pasta
La Tortilla Factory are the first non-GMO low carb tortilla. each tortilla is packing 4g net carbs, 3g of protein, 24% of your recommended daily intake of fiber, and only 45 calories. these tortillas sound like a great swap out from the normal cholesterol heavy tortilla found in every supermarket.
Barilla Sauce in marinara, the Barilla brand is not new to me, i've used these sauces in the past. one great thing about the Barilla brand is they use high quality ingredients, is kosher and gluten-free.
Barilla ProteinPLUS penne pasta is also packing some added protein, 17g of protein per 3.5oz, made with all-natural ingredients, and available in 7 varieties of pasta
Wasa Thins, although i have seen these at the market many times i never tried them, i was happy to see them in my degustabox this month. clearly i had been missing out as i quickly consumed the whole box within a week. the Wasa Thins are a delicate sesame cracker with a light sprinkling of sea salt, the flavor is not overpowering and works great with spreads and cheese!
Palo Popcorn in flavors white cheddar cheese, and bacon cheddar, this brand is completely new to me. all of Palo Popcorn's uses a non-GMO popcorn seed, real cheddar cheese, contain no trans fats, preservatives and are naturally gluten-free.
Hometown Chicago Style Bagel Chips, in both cinnamon and garlic, both were new to me. i am not the biggest fan of bagel chips, but that doesn't stop me from uncontrollably snacking through an entire snack size bag in one setting. the garlic was my favorite of the two featured in my monthly box, the cinnamon isn't quite my jam, i am not a fan of sweet flavors not being in pastries or desserts, that's just me.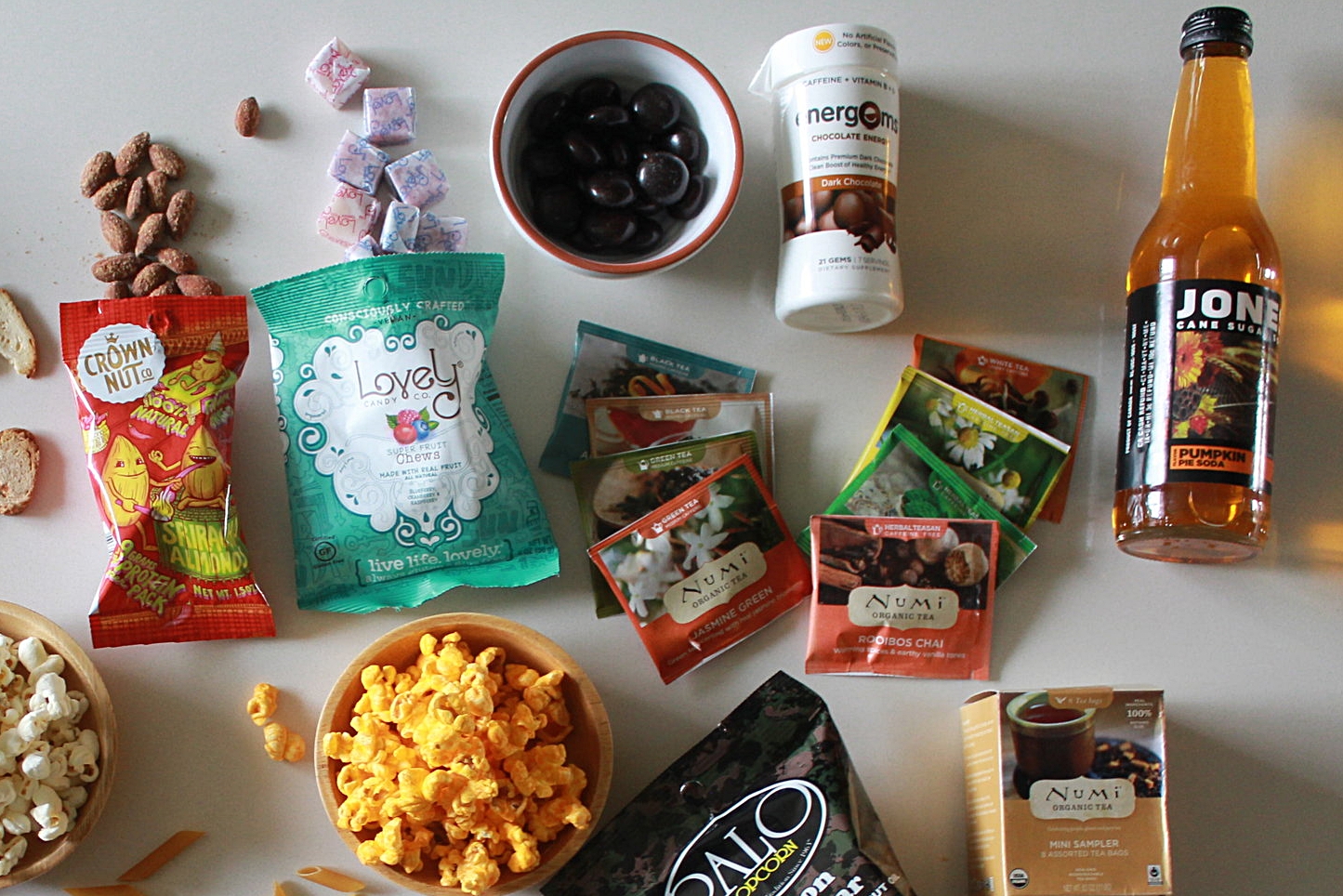 Crown Nut Co. in sriracha flavor. these nuts are new to me, i've not seen them on shelves but would easily buy if i had the option to. the Crown Nut Co. is family owned, %100 natural, vegan, contains 9g of protein, and only 100 calories per pack, plus they are non-GMO; basically yes to all of that!
Lovely Candy Co. these chewy all-natural, gluten free, non-GMO, and kosher candies include bits of real fruit and are made without the use of high fructose corn syrup. these were new to me and a great alternative to the common fruit chews found in every market.
Energems, bite-sized energy supplements packed with caffeine and vitamins B and D and covered in dark chocolate with just 50 calories in each serving.
Numi Tea mini sampler. i've been a long time consumer of Numi Tea and was happy to try some new Numi tea flavors like their caffeine-free Rooibos Chai, and Moroccan Mint.
Jones Soda in pumpkin pie flavor. i've had a few Jones soda's in my time and am excited to try this flavor in the near future, as a mixer.
follow this link to see what i made using an ingredient from this month's DEGUSTABOX
thank you DEGUSTABOX for sending me an october box in exchange for my honest review